Are you the type of reader who wants to know "who" is writing a post or are you more of the read the info and get out quick kinda gal/guy? I'm definitely the former. Clearly I was created with a strong desire for connection and relationships, as my poor husband frequently laments when I emerge from a public restroom with a new friend.
Husband
: Seriously, what do you talk about with strangers in the Walmart bathroom?
Me
: She's not a stranger now. Her name is Sally and she likes to knit. She has 5 grandkids and a dog.
Husband
: How do you even know that?
Me
: Well, I told her I liked her scarf and then asked if she made it...
Husband
: Nevermind.
Or there's the incident still laughed about by our neighbors of when we first moved to our street almost 8 years ago. At the time I had a month off before starting my new job and we had no children. It probably goes without saying as most of us crafty girls fit this description, but I tend to have a lot of energy and need activity to keep me happy. So, as the new neighbor, I baked cookies and took them to the existing neighbor to get acquainted. Not the traditional route, but those neighbors have been some of our dearest friends for years and our families have grown together.
Why am I rambling about relationships tonight? I am participating in a
Grow Your Blog party
hosted by
2 Bags Full
and I thought this party was the perfect time to really introduce myself to my current readers (thanks, I appreciate each one of you!) and potential readers (welcome!).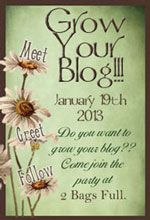 If you are of the enjoy a post and move on type mentality, then you may want to stop here, which is just fine. I hope you find inspiration and a project you can enjoy. If you prefer to know a little about the author, then without further ado, let me introduce myself and welcome you to A Humble Creation.
My name is Jessica. I am a 32 year old wife and mother of three young children. My first love is Mr. Humble Creation, to whom I've been
married for 9 years
. You won't see much of him here as he is very private, and I try to respect that trait. He is a loving husband and father and makes me laugh just about every day.
What can I say? We like to have fun and play!
There's Mr. S, my firstborn, the boy who made me a Mama. He's 5 and loves kindergarten. He is a great reader, builder of Legos, and snuggler of his mom. He is a good friend and cares for his siblings greatly.
Mr. S
Next came Miss K, my one and only girl. She is a strong and independent 3 year old who keeps us on her toes with her witty quips, one-liners and activity. She loves
tea parties
, playing with her brothers and working on creations with Mama.
Miss K
Our family was made complete with Mr. T (Ha!), our last baby. He is an affectionate 1 year old, quick with hugs and kisses. He is happy just about all of the time and loves to wrestle with his siblings.
Mr. T
Why did I start blogging?
I have pondered this question as I am asked repeatedly by loved ones, especially when they wonder how I have time. It's hard to narrow down exactly why I started this blog in November 2012, although I did try to answer this question somewhat in my
first post
.
I have always enjoyed creating and crafting from a very early age. I finished my first cross-stitch when I was 5 years old as a gift for my grandmother. Over the years, my creating blossomed into quilting, sewing, and other needlepoint work. One day this past year, I stopped and realized I wasn't creating anymore and it felt a little strange. Life had gotten so busy that I had stopped doing what I loved. Don't get me wrong - I am thrilled to be investing in my family and thank God every day for the blessings in my life - but I knew that I was still made with that innate desire to create. I started A Humble Creation for several reasons - to encourage myself to keep creating and share those creations, to connect with others who share my interest, to have an outlet for something that was just for me, and to share a glimpse of what makes me creative, the love and provision of my Creator.
My mission in blogging is to create a safe place to share creations, to get to know my readers and develop friendships, to have fun, and to bring glory to God by using the abilities He has gifted to me and share them with others. I hope you will find A Humble Creation to be a place of hospitality, warmth, encouragement, and inspiration. I look forward to connecting with each of you!

Why the name A Humble Creation?

humble: not proud or arrogant; modest

All of my projects are my modest attempt to enhance the beauty of my life and the lives of others by creating. Sometimes that goal is met and other times my projects are not so successful. More important than a beautiful creation is that I create with a heart that is not boastful, a heart that is serving others and modestly developing the gifts I have been given. In turn, I want to use my creations to be God's humble creation as I serve others around me.
A Few Fun Facts About Me
I am a fraternal twin.
My 3rd baby, Mr. T, set a record for being the largest baby ever born naturally in our hospital. He weighed 11 pounds, 9 oz (no, that's not a typo!) and I had him without medications. We had our 15 minutes of fame in the hospital!
I love Jesus and want to be more like Him in my love for others
I am a pharmacist. I work one day each week at a hospital and do some consulting work on the side. The other 6 days I get to be home and be Mama.
Before children I was a professor of pharmacy. I loved teaching college students and maybe will do it again someday, but I'm happy where I am with my babies right now.
I like exercise, especially group classes and swimming. I taught aerobics for years, but now I just participate. If you want a good laugh, you should watch me do zumba!
I am an avid reader, especially historical fiction and Jane Austen
I refer to fabric I like as "yummy", a trait that Mr. Humble Creation finds quite disturbing!
I met my husband in high school band at the age of 15. We married after college.
I am a native and life-long Texan.
I drink my coffee with a little dab of whipped cream, which the Mr. says means I am not a real coffee drinker, but hey, I know what I like!
I like to grow out my hair and donate it to Locks of Love every couple years. So my hairstyle varies depending on what phase of the donation cycle I'm in.
On this blog I share whatever creation seems fun at the time, everything from
tablescapes
to
sewing
,
quilts
to
kids crafts
. Please check out my headings at the top navigation bar or the labels in the right column to find specific topics in which you may be interested.
I also host a link party each Monday entitled
Monday Makeover
. Please come by to share all things creative: your sewing projects, DIY decor, crafts, family activities, recipes, beautiful tables, ideas for smoother mealtimes, games your family plays, devotionals, or anything that enhances your life. I look forward to seeing what humble creations you have to share!
Thanks for taking the time to visit A Humble Creation and get to know me. I look forward to knowing you. Please feel free to leave me a comment with your blog info so I can repay the visit. I also enjoy receiving emails from you and will respond to each one. Feel free to visit my
contact page
if you're looking for a way to connect, or you can click on any of the
social media buttons
at the top of the right sidebar.
Thank you
Vicki
for hosting and organizing this get to know you party. It is truly a labor of love and community building!
Welcome and Happy Creating!