Can you tell from that salutation I'm still coming down from my square dancin', boot wearin', BBQ eatin' high?
In honor of Go Texan day this past week, our church hosted a Barn Dance. Although I am a native and life-long Texan, I am a city girl, born and raised in a large metropolitan area, with no knowledge of livestock, cowboys or barns except what can be gleaned from our yearly visit to the Livestock Show & Rodeo. So a barn dance (which was really more of a Worship Center/Multi-Purpose Room Dance) seemed like a perfect excuse to create some adorable clothes for the little cowfolk in my home. As soon as the announcement of the party was made, I drifted off into visions of denim and pink bandanas, ruffles and little boots.
My plan for the little cowgirl's duds was to cut off the legs of an old pair of jeans, whip up a white eyelet trimmed pink bandana ruffle for the bottom and voila - an adorable Texan skirt to go perfectly with her pink boots and pink hat.
I've been sewing for years, but mostly making quilts that are not required to fit any one's body, so I'm still quite the novice when it comes to constructing clothing. I thought this project would be a good way to help develop those skills. As we were shopping at
Cavender's
on a mission to acquire the cutest cowboy hats south of the Mason-Dixon line, I stumbled across this little outfit.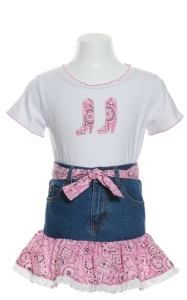 Exactly what I had drawn in my mind's eye, but with a price tag of 30 buckaroos! Freshly inspired, I high tailed it home and rooted through the outgrown clothes waiting for donation or new life on a younger sibling, where I found this little gem.
In case you are speculating from the looks of this picture, no, I did not cut that hole in the leg with those scissors just so I would have the excuse to give these jeans new life. The hole was already there and the scissors were staged as part of the would-be tutorial I was documenting and would have shared had this western wear not gone horribly wrong! (ooh, foreshadowing...now I know you're intrigued).
All was going according to plan until I hit a speed bump on the road to Texan cuteness. In order to make a skirt, I had to cut above the inseam seam, which despite my best efforts, mutilated the back pockets. I tried cutting below the pockets but then the back ended up much longer than the front. The more I tried to fix it, the shorter the skirt got, not exactly what I had in mind for my innocent little girl or a church party! Clearly, when Cherokee created these boys' jeans, they did not envision a future for them as a girl's skirt!
This little number is where I ended up. Still in a frenzy inspired by my visions of bandana and ruffle, I valiantly tried to salvage the skirt until my friend and neighbor declared it deceased. I knew it was bad at this point, for this dear friend has always been supportive of my array of crafting addictions and knowing of my vision, even bought the pink bandanas for me while shopping at Walmart because she's that kinda friend.
Although I decided to call it quits on this particular project, I now have a bandana cut, pieced together and ready to add some ruffled goodness to another unsuspecting piece of fabric. You never know where it might turn up!
Fortunately, I have a very generous mother-in-law, my "other mother", who loves to cute up her grandkids (as if they really needed more cuteness). On our trip to Cavender's, she very graciously purchased western shirts, boots, and a hat, so all the cowfolk were ready for the party.
You'll have to use your imagination to see what a wonderful time we had for I was too busy learning to square dance and living in the moment to peer from behind a camera.
Happy Go Texan Day!
What about you, my dear reader, do you have any sewing endeavors gone wrong? Please tell me I'm not alone in this, my humblest of creations!